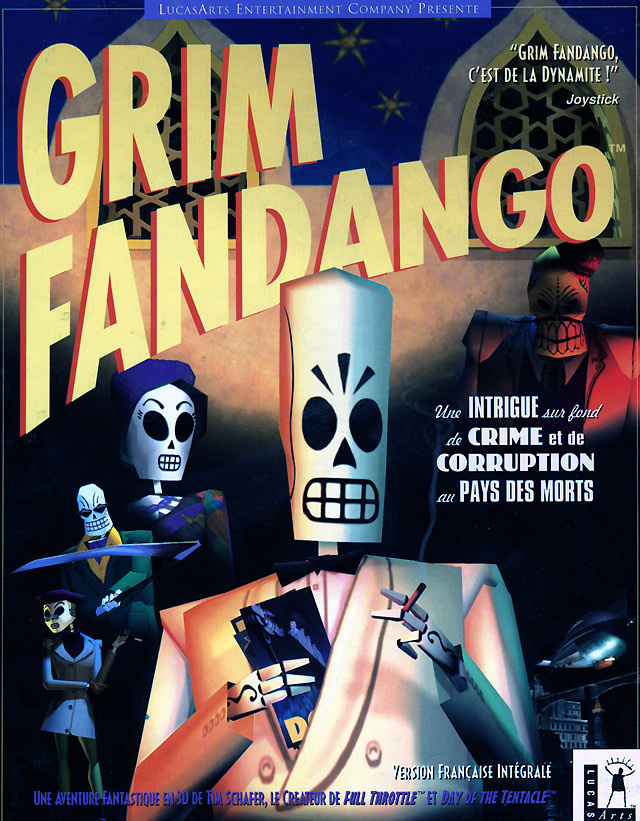 Lucasarts nous a habitué à des jeux d'aventures superbes, comme Day Of The Tentacle ou Full Throttle (qui était un peu trop facile il est vrai). Grim Fandango n'est pas une exception et est superbe, malgré quelques défauts techniques...
Informations sur le Jeu :
Developpeur :
LucasArts
Editeur :
Ubisoft
Type de Jeu :
Aventure
Date de Sortie :
Novembre 1998
Plateforme :
PC
Note :
17/20
Informations sur l'upload :
Langue :
Français
Hébergement des fichiers :
Multi
Format :
ISO
Nombre de fichiers :
2
Taille des fichiers :
625 et 635 Mo
Taille de l'upload :
1260 Mo
Installation
1. Monter le CD1 avec Daemon Tool ou équivalent.
2. Installer le jeu.
3. Après l'installation, aller dans le dossier GRIMEXTRA et exécuter GrimUpdate pour éviter tous problèmes avec windows XP ou Vista.
4. Pour jouer sans CDs, décompresser GrimLauncher dans le dossier d'install, cliquer sur "options" puis "run Grim from Hard Drive".
5. Bon jeu
Lien de téléchargement :
CD1:
http://www.megaupload.com/?d=ZLNMNJ7N
ou
http://www.jheberg.com/download-F268E26 … -maok.html
CD2:
http://www.jheberg.com/download-F7526D8 … -maok.html
ou
http://www.megaupload.com/?d=ZRKVSG0Y